RECOGNITION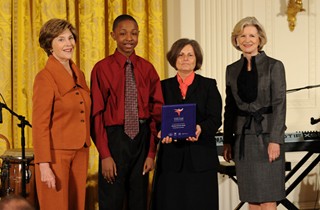 YA Indiana
is excited to announce that their Summer Arts for Youth (SAY) program won the
Coming Up Taller Award
from the
President's Committee on Arts and Humanities
! These awards focus national attention on exemplary programs currently fostering the creative and intellectual development of America's children and youth through education and practical experience in the arts and the humanities.
(Photo: First Lady Laura Bush w/recipients at White House)
IN SCHOOL
YA Northeast Ohio
re-launched the
Arts for Learning Lessons
program this fall at three elementary schools in eastern Medina County, 25 miles south of Cleveland. A dozen 2nd and 3rd grade teachers taught the
Upside-Down Fairytales
unit and veteran theatre artist Jonathan Graham is leading the companion residency to bring familiar and not-so-familiar fairytales to the stage.
OUT OF SCHOOL
YA Kansas City
is looking forward to a new partnership with
Synergy Services, Inc.
Synergy is a mental health agency whose mission is to strengthen the individual, family, and community through crisis intervention, shelter, counseling, advocacy and education. They have been awarded a $300,000 grant over three years to provide arts programs for the children and youth in their shelter. Synergy Services recognizes the arts as a positive form of self-expression, as a valuable tool for learning self-discipline and self-respect and as a means to inspire and empower young people to transform their lives. KCYA will begin providing performances and residencies in the summer of 2009.
PROFESSIONAL DEVELOPMENT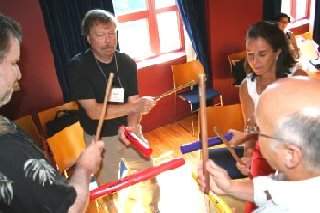 YA New Jersey
was pleased to host
Creativity to Change the World: An Early Childhood Arts Education Summit
from August 6-8, 2008, which was attended by 16 YA Affiliates and 15 organizations from across the state of New Jersey. The 80 participants were introduced to two of YANJ's early childhood programs:
Creative Beginnings
and
Family Arts & Creativity
. Ten affiliates have requested on-site training in both programs and will begin shortly for both YA Affiliates across the country, as well as New Jersey based organizations.