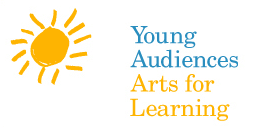 Young Audiences Arts for Learning and its 30 affiliates are engaged in several network projects that address the needs of the children and teachers in their communities. The following examples of nationally-funded programs are making a positive impact on the Young Audiences Arts for Learning network and the field of arts in education.
Arts for Learning Lessons


The Arts for Learning Lessons project is designed to significantly increase student literacy by developing arts-based instructional strategies for use by elementary school teachers, grades three to five. Working with learning scientist Dr. John Bransford (The Learning Sciences Group at the University of Washington) a series of arts-integrated lessons are being created to enhance students' reading comprehension and writing to help teachers meet local and state standards. The Lessons are designed for implementation by classroom teachers and are augmented by extended residencies led by performing and visual artists.
Metlife Dance for Life


The MetLife Foundation Dance for Life residency program is designed to inspire young people to experience the joy of dance and participate in physical activity. High-quality, sustained residency programs are taught by Young Audiences Arts for Learning teaching artists working side-by-side with classroom teachers in schools across the county. To learn more, click here.
Arts for Learning Interactive Media


Arts for Learning Interactive Media services are available to the YA Arts for Learning Network and to partner organizations. Services include the Web Library at www.arts4learning.org, which publishes best practices in the arts in education field and offers passworded online working groups for artists, teachers and arts education staff, and the Media Stream, which shows how students react to the arts with streaming video available for placement on any arts organization's website.
Home (1) ------- Next (2)